INCREASE YOUR ENERGY, BECOME EMPOWERED & FEEL PROTECTED
Using Channelled WooSci Information.
Sign Up To The New Training Below.
SIGN UP
FREE & UPDATED CHARGE, GROUND, PROTECT ENERGY TRAINING
Hosted by Be Coffin, Expert Psychic Healer.
For more information please see below.
I'm so excited to be bringing you this New and Improved

Charge, Ground, Protect Process.
This is my most recent downloaded technique direct from Source.
Yes really!
I received this information over 4-5 days through separate meditations recently since the Solar Flares have been coming to Earth.
LEARN THE

Technique
The technique I'm going to be teaching you, will put you back in the driver's seat of your life - you will be in Charge (Again).
You will no longer have to take on anyone else's 'Stuff' once you have experienced your Aura Activation - you'll be protected with your own Force Field.
You'll be able to be able to Energise Your Self whenever you feel low with the Charge Up and you'll be able to stay grounded in your place with your Grounding Technique, creating an unshakeable foundation.
Understanding this information is a massive step in Awakening to the next level of your being and is phenomenal information to receive for FREE.
GET YOUR JOURNAL

ready!
The technique I'm going to be teaching you, will put you back in the driver's seat of your life - you will be in Charge (Again).
I have been using this technique for over 20 years and the way this most recent Download came through has taken the sensations and understandings to the next level of being - we're talking Quantum! It has opened my mind to the next level of Awakening and I hope it will do the same for you
Just had to share this with you.
Bring your journal, some water, 120 minutes of your time, an open mind and be ready for your Activation. This is going to be immense. Believe me.
MAKE SURE TO

sign up
Make sure you sign up by inputting your name and email and WATCH THE TRAINING in the form at the top or bottom of the page. You'll then get an email confirmation to show you you're in. (Remember to check Spam too for messages from Be Coffin Ways to Heal!) Any problems email [email protected]
Also do let others know who might need/want/desire this. This Gift needs to be shared.
WITH MY LOVE AND HEALING ENERGY TO YOU

Be Coffin x
HERE'S WHAT YOU'LL DISCOVER
90 Minutes of Powerful, Proven Next Level Training STREAMED from the comfort of Your Home (£297 Value).
Access To The Aura Activation: Become Connected with your Auric Force Field that will keep you safe when you need to (stay till the end of the Training for this) (£150 Value).
Develop Your 'Charge Up' Energy Technique: Supply your self with Energy whenever you need it (£150 Value).
Grow Your Grounding Technique: Understand an unparalleled technique 'never seen before' that keeps you solid in your body (£150 Value).
Unlocked: Be's Channelled Healing Information: Learn Deep Esoteric Knowledge that was Gifted to Be by Source. (£Priceless Value).
FREQUENTLY ASKED

Questions
HOW DO I GET ACCESS TO THE TRAINING?
HOW LONG WILL THE TRAINING LAST?
WHY ARE YOU GIFTING THIS TRAINING FOR FREE?
WHAT WILL I GET FROM THIS TRAINING?

FREE & UPDATED CHARGE, GROUND, PROTECT ENERGY TRAINING
HOSTED BY BE COFFIN, EXPERT PSYCHIC HEALER FOR MORE INFORMATION PLEASE SEE BELOW
Soo Strong - Mindful East
I completed Be's 3 days free to learn to heal your pain. It was very informative, relatable and lots of takeaways to support your wellbeing.
It is full of well organised content and practical exercises to connect with your intentions for yourself and effective exercises to help you shift your pain.
Would highly recommend Be and her real clarity skills.
Be is so approachable! She has a way of making the content clear and straightforward. She shows you how to use all the tools to suit your own belief system and your personal needs. I think you can get what you need from Be whether you are a beginner or have lots of energy work experience.
Highly informative, inspiring ways to help all heal and deal with physical, emotional, psychological, and spiritual challenges in life!
Well presented in clear, natural and accessible language!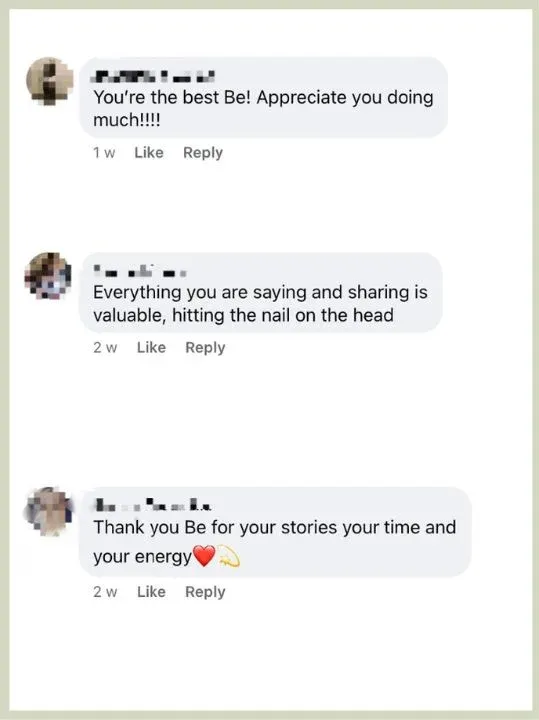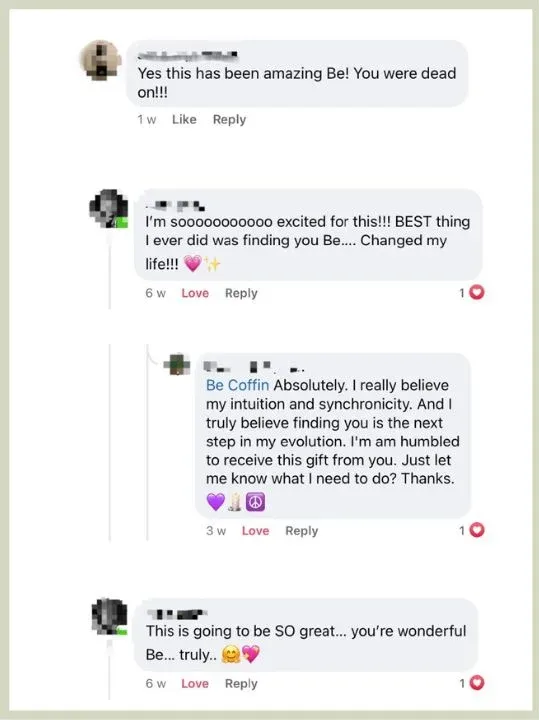 FREE & UPDATED CHARGE, GROUND, PROTECT ENERGY TRAINING
Please remember to check your emails including your spam folder for confirmation.